History of Our Chapter
The General Marion's Brigade Chapter was organized in 1999 in Moncks Corner, SC. We have sponsored the Junior American Citizens, American History Essay Contests, Good Citizens Awards, and JROTC Medals. We have encouraged landowners to preserve significant historical sites and helped to develop projects such as the Francis Marion Trail Commission. We strive to educate ourselves about our local history so that we may do more in preserving it.
We are located in Berkeley County, the stomping grounds of the Swamp Fox, Brigadier General Francis Marion. We are the local representative of the South Carolina Daughters of the American Revolution.
Join the DAR. Hover your cursor over this line to see our email address. Contact us for more information about joining.
The content contained herein does not necessarily represent the position of the NSDAR. Hyperlinks to other sites are not the responsibility of the NSDAR, the state organizations, or individual DAR chapters.
I believe in the United States of America as a government of the people, by the people, and for the people; whose just powers are derived from the consent of the governed; a democracy in a republic, a sovereign nation of many sovereign states; a perfect union, one and inseparable; established upon those principles of freedom, equality, justice, and humanity for which American patriots scarificed their lives and fortunes.
I therefore believe it is my duty to my country to love it; to support its constitution; to obey its laws; to repect its flag; and to defend it against all enemies
Preamble to the U.S. Constitution
We the People of the United States , in Order to form a more perfect Union, establish Justice, insure domestic Tranquility, provide for the common defense, promote the general Welfare, and secure the Blessings of Liberty to ourselves and our posterity, do ordain and establish this Constitution of the United States of America.
The National Society Daughters of the American Revolution (NSDAR) was founded on October 11, 1890. Over 950,000 members have joined.
Our Objectives : Historical - to perpetuate the memory and spirit of the men and women who achieved American Independence; Educational - to carry out the injunction of President Washington in his farewell address to the American people, "to promote, as an object of primary importance, institutions for the general diffusion of knowledge, thus developing an enlightened public opinion..."; and Patriotic - to cherish, maintain and extend the institutions of American freedom, to foster true patriotism and love of country, and to aid in securing for mankind all the blessings of liberty.
Please, go to the related links page to find out more.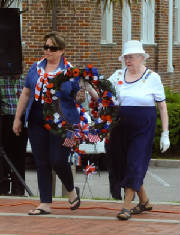 Chapter Historian Pam Herndon, left, and Chapter Regent Henrietta Acton present a wreath in memory of the men and women of the United States Military who paid the ultimate sacrifice for our Freedom.