Despite the British occupation of her home, Rebecca Motte and her family remained in there until the American forces, under the command of General Francis Marion and Lieutenant Colonel (later General) Henry Lee, arrived, demanding that the British surrender. The Motte family was asked to retreat to a farmhouse nearby, and on May 8, 1781, Marion and Lee attacked the plantation to reclaim it for the colonial army. Rebecca Motte reportedly encouraged the Americans to set the house afire in order to dislodge the British. She herself is said to have provided the arrows used to ignite the roof. The British soldiers surrendered, fearing they would be blown up if the gunpowder stored in the house was set on fire. Following the successful American siege, Rebecca Motte provided a dinner to the officers of both armies.
By joining the DAR, your are honoring the legacy of your Patriot ancestor through your service to your local community, state and country. Hover your cursor over this line to see our email address to contact us about membership.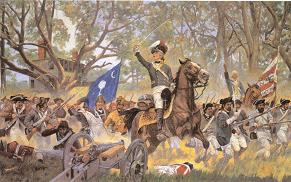 At the Battle of Eutaw Springs on September 8, 1781, General Francis Marion commanded the militias of North and South Carolina and drove the British back to Charleston. For more information check out the many websites on him. Here is one example: http://www.sc.edu/library/spcoll/marion/fmarion.html
Many of the wounded British soldiers made it to Moncks Corner and took shelter at the Fairlawn Mansion owned by the Colleton Family.
Click on the link below to read more information.
At Ox Swamp (present day Manning, SC) after spending 6 hours in pursuit of Marion and his men, Lt. Col. Banestre Tarleton gave up the chase saying "as for the old fox (Marion), the devil himself could not catch him." Thus, Gen. Marion became known as the "Swamp Fox".
The content contained herein does not neccesarily represent the position of the NSDAR. Hyperlinks to other sites are not the responsibility of the NSDAR, the state organizations, or individual DAR chapters.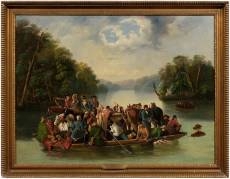 Symbolic of the right of passage into freedom, it depicts a determined group of men, headed by General Francis Marion, the "Swamp Fox", crossing the Pee Dee River.