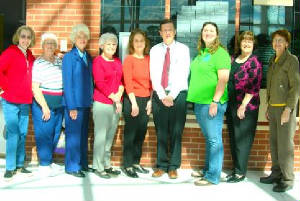 General Marion's Brigade visited the SC Archives and History Building in columbia, SC on March 13, 2010. We got a behind the scenes look at very old and historic documents. We also got to do some personal research through their huge collection of research materials. You can do some research online. Visit their website. Click below.
South Carolina Archives and History Website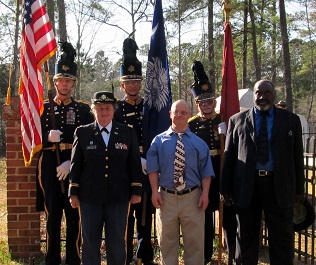 Francis Marion Memorial Day Feb. 27, 2011. Graveside Ceremony conducted by General Marion's Brigade Chapter. Pictured here is the Washington Light Infantry color guard, Dr. Karen MacNutt speaker, John McQuown singer, and John Wiggins speaker.
Video of Dr. Karen MacNutt speaking about General Francis Marion.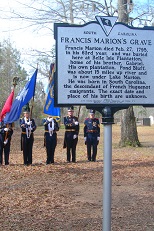 Our chapter organized a fundraiser to refurbish the two Francis Marion SC Historical Markers at Marion's Tomb. We appreciate everyone's support to Remember the Swamp Fox! Pictured here is one of the markers unveiled and the Washington Light Infantry Color Guard.
The content contained herein does not necessarily represent the position of the NSDAR. Hyperlinks to other sites are not the responsibility of the NSDAR, the state organizations, or individual DAR chapters.