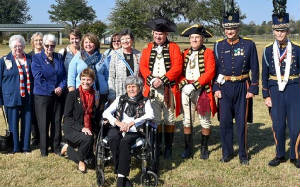 General Marion's Brigade joined many other organizations to celebrate the acquisition of Fort Fair Lawn. This is a British fort built in 1780. It was abandoned by the British early 1782. It still exists today in pristine condition and will be open to the public soon!
Become a member of the DAR. Contact us. Place your cursor over this line to see our email address.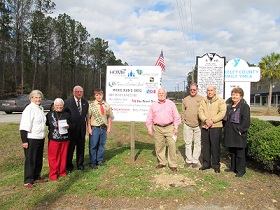 Our chapter has ongoing projects that we are involved in with other local groups.
Fairlawn Plantation Historical Marker
A SC Historical Marker for the Fairlawn Plantation and Fort Fairlawn in Moncks Corner has been placed on Rembert Dennis Blvd. General Marion's Brigade and co-sponsor Berkeley County Historical Society unveiled this marker on Feb. 26, 2012. The following businessed donated to this marker : Home Telephone $500, Santee Cooper $250, Farmers & Merchants Bank $200, Music Man's BBQ $100, Berkeley Electric Cooperative $100, South Carolina Bank & Trust $100, Orvin's Furniture $100, The Print Stop $100, State Farm (Les Cooper) $75, Anne Propst, $50 Betty Williams $50, Moncks Corner Town Administrator $100. Thank you for your support!
St. James Chapel of Ease Historical Site
Our chapter has joined with several groups on this project: the United Daughters of the Confederacy Chapter, Little David #2656, who in 2007 under the leadership of Charla Springer (also a member of our chapter, General Marion's Brigade) initiated this project and has donated much time and money to start the restoration of this forgotten historical site; the Goose Creek Tea Ladies and the Dangerfield Family in memory of Mr. and Mrs. Robert Dangerfield, both groups have donated money; and several other local groups and descendants have joined to become a section of the Berkeley Chamber of Commerce. There is so much more that needs to be done to secure the future of this site!
This site dates back to the colonial time period of the St. James Goose Creek Parish. A chapel of ease was built in 1721 on an acre of land donated by George Chicken 7 miles south of Moncks Corner. The brick chapel was built in the shape of a cross. There are at least 4 American Revolution patriot tombstones in the cemetery. The cemetery is in need of major restoration. Donations are tax deductible. Contact
GeneralMarionsBrigade@gmail.com
for more information.
Thank you!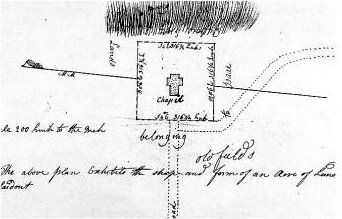 Chapel of Ease, built with brick in the shape of a cross.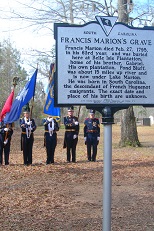 General Marion's Brigade raised funds to restore both SC Historical Markers at Marion's Tomb. We thank the community, members of the DAR and SAR for their contributions.
The content contained herein does not necessarily represent the position of the NSDAR. Hyperlinks to other sites are not the responsibility of the NSDAR, the state organizations, or individual DAR chapters.